Portmore Equestrian Centre houses an international arena with a first class surface to match. The arena is 70m x 32m and has an Andrew Bowen Wax fibre surface as used in Northern Ireland's International Horse Show.
"Portmore Equestrian Centre is the Best Arena in Ireland" Sinead Kennedy
Portmore is a family run business, however there are lots of other people in our team working very hard behind the scenes to make it the place it is today.
Our restaurant and bar are open for all shows, with renovations and improvements continually being made to the premises to make them suit the needs of our customers better.
We have indoor and outdoor warm up arenas so you have the choice of arena type to suit your horses' final preparation before competing, and also the choice to stay dry whatever the weather.
We have a number of stables onsite beside the warm up arena where horses can be stabled during shows, please speak to us if you would like to avail of this facility.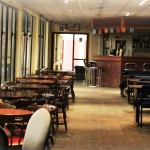 We also have a raised viewing gallery to allow spectators see more of the action, and it can get very busy during our two and three day championship shows.
Our International arena is also available for hourly hire, with a full set of international show jumps included in our hire prices.  Rates are dependant on requirement for lighting, please phone us for pricing and availability.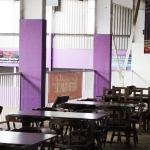 This range of space also makes the centre suitable for a variety of uses including various types of exhibitions. Portmore Equestrian Centre is also the home of the annual Agricultural Equestrian and Commercial Show.
If you would like to enquire about availability of the centre for an exhibition, please contact us by phone to discuss your requirements.
Portmore Equestrian Centre: 02892 650342