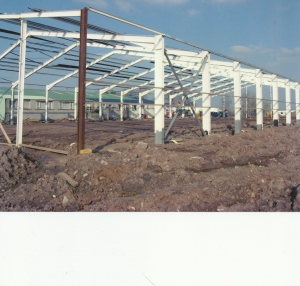 Portmore Equestrian Centre was launched in 2002 by Seamus Kane recognising his daughters talent for show jumping and the lack of local equestrian facilities.  The original indoor was 150ft x 200 ft and temporary stables can now be found where the original warm up area was located.
In 2005 we began horse and pony auctions using the original indoor to showcase their abilities with the auctions taking place in the original warm up.
In 2009, a new international indoor arena was added to the existing building using the best surface available which was purchased from the Belfast International Horse Show.
In 2013 the outdoor arena was added featuring a wax fibre mix and is often used by the resident riding club and as an additional warm up arena for the larger day time shows.
Chantal and Rafael took over the management of the centre in the beginning of 2014 and continue to make further improvements each season in preparation for each Championship show.  In 2014 the international arena received a complete refurbishment with the warm up arenas following suit towards the end of the summer.  The wall decor, windows and arena surface were all improved to give competitors a better area for show jumping preparations.  The stabling area was also replaced with works to the existing restaurant and bar area completed in time for the Autumn Championship show.